About
We've been working for you, not the IRS, since 1971.
Lynda grew up loving numbers...When she first saw a tax return she fell in love with it and wanted to do more. To make sure this wasn't a sign of early mental illness, she started helping people with their taxes. Word of mouth kept her growing and growing and today Lynda's business in St. Paul, Minnesota is one of the largest sites that electronically file taxes in the USA.
With an excellent trained staff (many of which are related, therefore sharing the same Gene Pool that created Lynda's brain), we have a clientele of over 10,000. In the past few years , we e-filed over 11,500 different returns to federal and numerous states. We also have a large clientele of sole-proprietors, LLC's, Trusts, S and C Corps and Partnerships.
We have a tax preparation staff specializing in all the different fields, from 1040 personal returns, to self-employed, to LLC's, to partnerships, non-profits, estates, trusts and S & C Corporations. So when scheduling an appointment, we'll be sure to schedule you with a preparer knowledgeable in your specific field whenever possible.
Returns are usually electronically filed the same day and your refunds are very fast and secure going right into your bank account if you prefer.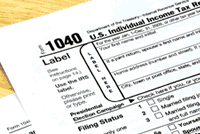 Tax Servies: